About the Blaze RR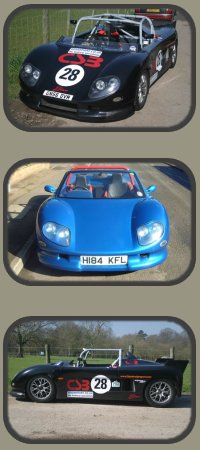 The Blaze RR is a highly focused performance car that's ideal for road, trackday or competition use. The engine bay can accommodate a vast range of options from motorcycle engines right up to the colossally powerful Audi V8 with a transaxle via all manner of four-cylinder car engines. This means that it can be made eligible for a vast number of race series or any level of road or trackday performance. You can also choose between a conventional right-hand drive cockpit or a central driving position.
Blaze Motorsport bought the Pell Genesis project to use its swoopy styling on the RR, but beneath the skin it's all original Blaze engineering. Designed by Blaze founder John Hewat, it benefits from his wealth of engineering experience; he served his apprenticeship at the MOD and, in his early years, built and raced karts and trials cars. For the last 17 years, he has prepared cars for other drivers and successfully competed in sprints and hillclimbs. The chassis benefits from knowledge gained when John was working on the GT3. That car went through a programme of testing at the MIRA research facility. When the GT3 underwent durability testing, it lasted one and three quarters its projected life span without failure. This tried and tested formula has been applied to the RR chassis.
During the RR's development, a major consideration was ease of build. The mid-engined layout lends itself to using a whole range of engine/transmission configurations in standard form, the wiring loom is a simple plug-in affair and the self-coloured bodywork, devoid of any doors to hang, simply bolts to the chassis. It all means that the RR is a car a competent amateur could comfortably build in their own garage. Price is another important factor and, while a lot depends on individual specification, it is possible to assemble a Blaze RR for surprisingly little. Full information on kit pricing and specification can be found on this website.
For more information please call us on Office: 01622 863122 or Mobile: 07740 537754 or email us at Info@blazemotorsport.com